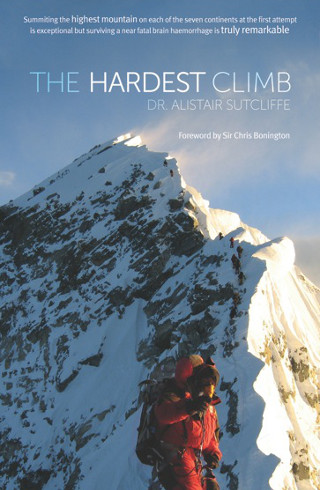 After becoming the first man to conquer the highest peak on each of the seven continents at the first attempt, Alistair's hardest climb was surviving a brain haemorrhage.
Foreword by Sir Chris Bonington, The book is fascinating and inspiring, and contains some stunning photographs from Dr. Sutcliffe's climbing expeditions. His wife Clare also makes personal contributions at the end of each chapter.
Alistair Sutcliffe was interviewed by the Guardian in May 2011.
Reviews
Success on all of the seven summits is a feat in itself, made all the more remarkable by the fact that they were all summited at the first attempt. However, Alistair's hardest climb is his recovery from a near fatal brain haemorrhage. All of the survival skills that a climber uses every day in the mountains have, undoubtedly, helped prepare Alistair for this, his greatest challenge. -- Sir Chris Bonington, Britain's foremost mountaineer
All I can say is the book is wholeheartedly amazing. Each page keeps you intrigued and curious to know more about Alistair's experiences and adventures. You could sense the emotions expressed by pure determination and sucess. Truly inspirational. -- Tracey Young on Amazon